The Dutch Reach method & term is traveling the Globe!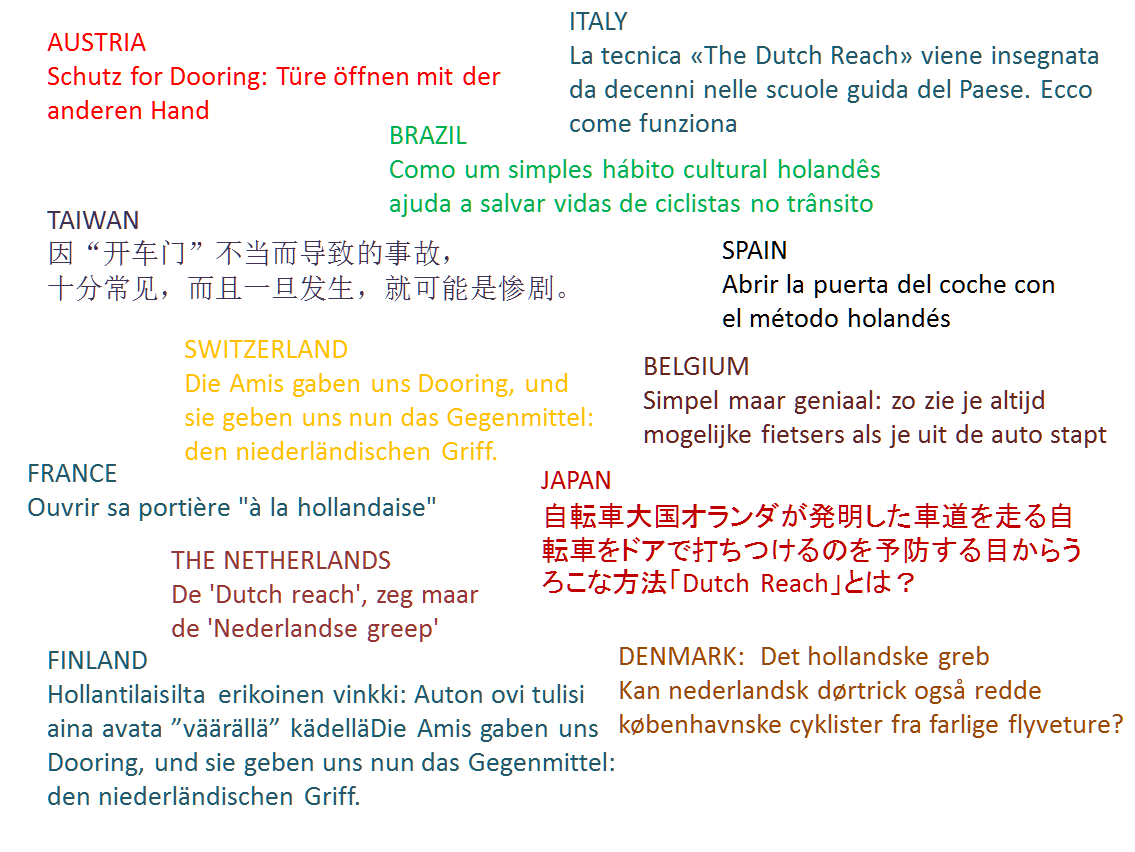 Go to Coverage >> Other Languages & News & New for articles, news & blog posts from around the world! 
See also new Dutch Reach videos & animations from other countries & in English or in other languages here - although this too needs updating.
The far hand method continues to percolate across the internet & social media as more and more cycling & road safety advocates discover Holland's 50 year old wisdom.  
As of May 28, 2017, the above sampler is several months old.  It does not include English speaking countries such as the United Kingdom, Canada, Australia, New Zealand and such countries as Singapore where it has also 'arrived.'  Among other 'tongued' countries, Hungary, Poland, Sweden, India, Portugal and even The Netherlands need to be added.  
DUTCH REACH APPROVED BY ROYAL SOCIETY FOR THE PREVENTION OF ACCIDENTS.
Feb 1, 2017,
The Royal Society for the Prevention of Accidents (RoSPA), UK has endorsed the Dutch Reach Method as a recommended best traffic safety practice.  RoSPA issued its expert finding of safety advantage with a posting on its website.  It points out that the far hand reach method provides a continuous view of on-coming traffic whilst preparing to open and exit the motor vehicle.  It protects cyclists and exiting occupants from heedless and at times devastating harm, either by direct collision or due to dangerous swerves by bicyclists or vehicles to avoid flung open doors.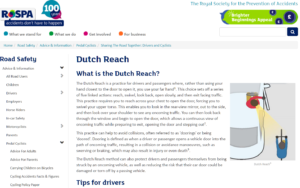 The far hand method has been practiced in the Netherlands for about 50 years with little notice elsewhere.  Such recognition by one of the world's preeminent safety and accident prevention organizations raises this hither-to-fore nameless commonplace -- but official Dutch practice -- to new found respect and prominence.  It confers authority for its adoption well beyond the physical and linguistic borders which stalled its export, leaving it little known or neglected by the English speaking world and, as it now appears given recent globe media attention, by most every other nation as well.
NOTE:  Teaching handouts are now available for download for either Right or Left road driving countries with appropriate text and drawings.  Here's a Complete list & map of left- & right-driving countries.  
If you find L/R errors, omissions or oversights elsewhere on the site please let me know.  Thanks!~mc.   
Download teaching handout for your country's appropriate L/R version by clicking on the small Word icon [W] beneath each respective document window.
SOUTH AUSTRALIA'S GOVERNMENT MAKES DUTCH REACH OFFICIAL
The state of South Australia adopted the Reach method in October 2017 and launched a public education campaign to introduce the method. The government website dedicated to road safety added is description to its section on "Observation (How to use your eyes more effectively."  The text description was accompanied by the diagram at left.
VICTORIA AUSTRALIA AFFIRMS FAR HAND
From Prime Minister Trudeau...
CANADIAN MPs & PM CALL FOR DUTCH REACH TO PREVENT DOORING
MP Joel Lightbound Speech to Parliament
Cet hiver au Canada, on pratique le Dutch Reach. This winter in Canada, we practice the Dutch Reach.For a free reminder sticker / pour un autocollant de rappel gratuit: joel.lightbound@parl.gc.ca

Posted by Joël Lightbound on Monday, November 14, 2016
UK TRANSPORT SEC'S DOORING SCANDAL EVOKES DUTCH REACH
For initial coverage of British Transport Secretary Chris Graylings dooring of a cyclist and leaving the scene without providing identity information nor reporting the crash to police, only to be exposed two months later when a Gro Pro video surfaced of his negligence, see:  "New & New
A Letter to The Guardian Editors, LBC UK talk radios website video, and this opinion piece in the Oxford Mail  by Sara Taylor each explain and call for adoption of the Dutch far hand method as Transport Secretary Chris Grayling could have avoided dooring a cyclist riding legally in the adjacent bike lane.