Please note:  Most every menu or drop-down box contains content - click to open each.
New York State Road Sharing Videos, 2017.
New York Bicycle Coalition together with City of Albany Police Academy & Governor's Commission on Traffic Safety produced this set of road sharing videos, posted on YouTube in July, 2017.  Part I is addressed to drivers; Part II to bicyclists.  The Dutch Reach is advised and taught in Part 1.  
For a list of topics covered in Part 1, click here.
Sharing the Road (Part 1) - Bicycle Law in New York State
Sharing The Road (Part 1) - Bicycle Law in New York State from New York Bicycling Coalition on Vimeo. (29 July 2017.
Sharing The Road (Part 2) - Responsibilities of Bicyclists in NYS
VIDEO FOR TRUCKERS SHARING CITY STREETS WITH BICYCLISTS & PEDESTRIANS
The City of San Francisco in consultation with SF Bicycle Coalition and Walk SF produced this 2015 truck/rig/bus/coach etc. driver training video.  Over 100 Bay Area corporations have hosted SFMTA-led driver training sessions for their fleet drivers using this video.  
Note:   Though as yet unnamed back in 2015 when this video was made, the Dutch Reach method is demonstrated at minute 14:30 of 17.
DRIVER EDUCATION BY UBER & SAN FRANCISCO BICYCLE COALITION
San Francisco Uber -- with help from San Francisco Bicycle Coalition -- has released a fine set of 4 short safety videos for their drivers focused on bicyclists' road rights, hazardous situations, infrastructure and safety tips.
The far-hand Reach is taught in the first video (at minute 1:07); while driver responsibility for safe pick-up and discharge of passengers is covered in the fourth:
Open the following link to view and learn about their 4 videos and collaboration.
Sharing the Roads with Bicycles - Info & Video
Uber's videos were released Sept. 22, 2016.
DUTCH REACH FOR UBER, LYFT, RIDE-SHARE PASSENGERS - BUZZFEED
BuzzFeed News @BuzzFeedNews, August 20, 2017.
Allyson Laquian, Video Tech Producer.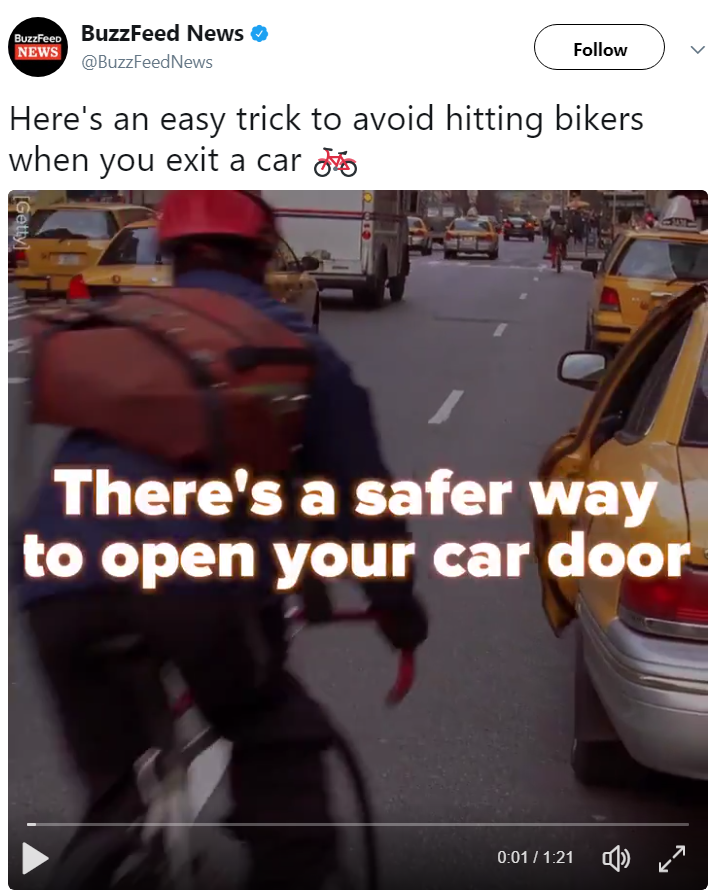 BuzzFeed News' Dutch Reach video by Allyson Laquian addresses the 'Uber / Lyft Effect' -- doorings by heedlessly exiting passengers of ride-share services.
 
Share the Road, Same Rules, Same Rights - Video for Motorists re: Bicyclists
Share the Road, Same Rules, Same Rights with cycling pro Robbie Ventura.  Produced by the League of Illinois Bicyclists' Motorist and appears on You Tube with as Motorist/Driver's Ed Video on You Tube.
Note:  While the far hand method is not narrated, the woman driver shown exiting (at minute 4:18)  has reached across with her right hand to the door latch, swiveled and does a direct view 'should check' back to directly view on-coming traffic, ie. she does the Dutch Reach.