New Technology & Gimmicks to Prevent Dooring Cyclists
Here are a variety of available high and low tech devices to prompt drivers and passengers, or to warn cyclists, to prevent doorings. If you know of others please forward info via email at Contact.https://www.dutchreach.org/contact-2/
Tech Solution 1: Side Mirrors for Back Seat Passengers
Thin vertical mirrors placed on the pillar between front and back side windows permit rear view for back seat passengers. The add-on mirrors with adhesive are sold as sets and are accompanied by stickers to instruct passenger use.   Mirroty company markets their mirrors to taxi fleet owners foremost to reduce civil liability, vehicle damage, off-service repair time, and 'accident' insurance cost exposures.
Tech Solution 2: Unbuckling & Video Cam Alert Systems for Cyclists & Occupants
An Australian company Dooring Alert Systems' DAS Lambda anti-'dooring' devices link unbuckling of seat belts to exterior warning lights; video cam detectors trigger interior warning lights of cyclist's approach  to avert the risk of dooring.  Also see article.
Tech Solution 3: Rear Radar to Warn Driver of Cyclist Approach
The new 2016 Audi A4 luxury sedan uses radar and flashing exterior warning lights to alert driver and occupants of on-coming bicyclists.  Concealed behind the rear bumper, the device first detects cyclists at 10 to 15 meters (33 to 49 feet) back.  Warning lights near the side rear view mirror and atop the door trim are triggered automatically for up to three minutes after engine turn off as well as when running.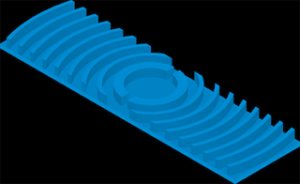 Rider Reminder adhesive rubber strip on door latch provides tactile nudge:  Look for cyclists.
Tech Solution 4: Tactile Reminder on Inside Door Latch
The Rider Reminder is an Australian invention applied to a car door latch to cue drivers to look out for cyclists when exiting their vehicle.   It is a small adhesive loop of rubber textured to feel like a handle bar grip and meant to work as an aide de memoire.
It has been endorsed by Victoria AU's Transport Accident Commission, and promoted by professional Australian cyclist Cadel Evans. Evans talks about car dooring and the tactile cue's use to prevent doorings in this video:  Rider Reminder TAC Towards Zero.
TECH SOLUTION #5 NIGHT LASER PROJECTS IBIKE ON ROAD, WARNS DRIVERS
Blaze Laserlight  -- 11500 of London's Santander public bikes to be equipped
Transport of London
Patricia Duran - 02/10/2016,  NOTICIAS  -- COCHES.COM
The system, pioneer so far, projects on the ground the image of a bicycle five meters away, in order that these are more easily recognized by a driver and avoid a possible collision.  Video promotion.

TECH SOLUTION #6: Disappearing Car Doors
Bend your mind and roll your car doors!
 Jatech of UK demonstrates its contribution to unconventional or pre-conventional vehicle door design with their video,  Disappearing CarDoor by Jatech.  While it has failed thus far to go mainstream, as have sliding vehicle doors, nor achieved such glory as DeLorean's gull-wing doors, Jatech's retractable-door trick should at least merit a cult following.  
But  bike expert John S. Allen was not reassured.  His  2009 blog post - End to "dooring" hazard? - noted it, and comments on its anti-dooring limitations.   
TECH SOLUTION #7: 2018 Audi 8 sports Suite of anti dooring features
New Audi A8 locks doors if it detects a cyclist
Vehicle has exterior warning lights for cyclists, senses when driver has hand on door handle, detects on-coming cyclists with remote sensing, and temporarily locks door should driver attempt to open in presence of on-coming cyclist. Protection lasts for 3 minutes once motor turned off. Price: $200,000 in Australia.
TECH SOLUTION #8: Semcon's 'Life Sticker' - Wireless Alert Device & App
TECH SOLUTION #9: Toyota's Revolutionary Dooring Deflector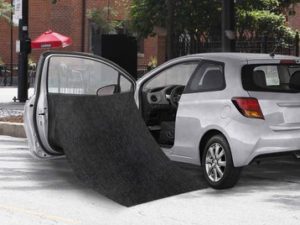 Innovative: Toyota Is Saving Cyclists' Lives By Adding Ramps To Their Car Doors
...
Press release:
"The engineers of the Toyota Motor Corporation are happy to offer a ramp feature improving the experience for everyone on the road. Instead of facing an opened door or potentially deadly sideswipe, cyclists will now be launched well into the air—and are encouraged to do a tail tap or even a 180, should they wish—before being safely returned to the ground."
More at Clickhole.com