ENGLISH LANGUAGE VIDEOS ON DUTCH REACH
Investigator - Cleveland, Ohio USA:
WKYC CHANNEL 3 NEWS, July 10, 2017
Bicyclists, car doors collide with painful results
An in-depth report on the growing occurrence of  'doorings' & a lesson on the Dutch Reach.
The Dutch Reach - Safe For Work, Outside Online Magazine
Outside Online's in-house videography team produced this now viral video within 10 days of reading the first news story about the Dutch Reach. It's title and teasing start plays on the [entirely unintended and unsuspected] of the quirky coined term itself. Apparently 'Dutch' & 'Reach' have connotations which many Millennials suspect and smirk about.  Hence the subtitle: Safe For Work or SFW as opposed to not safe, or NSFW.  After the intro, OO's Fitness Director makes a very graceful presentation.
The video has since been viewed over 2.3 million times world-wide as of 26 July 2017 - on Outside's home and YouTube portals alone. Outside's viewers voted it their most loved video of 2o16, though it only started running 19 September 2016!
'Dutch Reach' video by Massachusetts Dept. of Transportation
Dooring dangers... as peak cycle season arrives - CTV News Ontario Ca
Dooring dangers: Cyclists, drivers need to be alert as peak cycle season arrives
Taylor Poelman,  CTVNews.ca
May 3, 2014
Excellent double news report gives overview of dooring hazard across Canada, with high quality video and web-print news story.
Both video and story recommend the far hand method for safe exiting in interviews with Geoffrey Bush for Montreal's  "Une Porte, Une Vie" 2014 anti-dooring campaign, and Rob Tarantino, Board Chair of Cycle Toronto.
The Huffington Post, Canada's Dutch Reach Video
Article & videos:  Report on a Canadian Member of Parliament, Joel Lightbound's promotion of the Dutch Reach features a bouncy, funny but serious instructive video, followed by video of the MP's speech on the floor of Parliament, November, 2016.
by The Huffington Post, Canada - 11/17/2016

CBC News: Winnipeg Canada, 2017
CBC News: Winnipeg, Manitoba, Ca.  CLICK SCREEN LINKED TO VIDEO & ARTICLE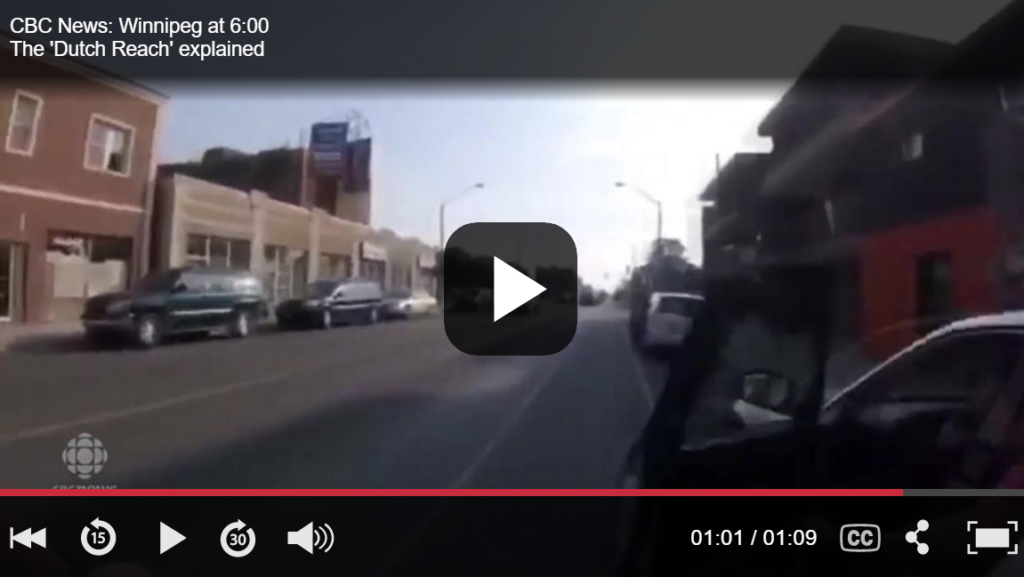 GIF animation may be viewed & shared as a Tweet at right.
Video accompanies news story in which a local Councillor calls for Manitoba Public Insurance agency to educate drivers on the 'Dutch Reach':
Coun. Matt Allard promotes 'Dutch reach' to combat cycling accidents
St. Boniface councillor says body-twisting motion keeps cyclists safe from doorings
By Bartley Kives, CBC News, Jan 10, 2017
Manitoba Public Insurance is a nonprofit Crown Corporation that provides basic automobile coverage.
FaceBook: LifeAspire Features Huffington Post Canada Video
LifeAspire website shares a fun new Dutch Reach video courtesy of Huffington Post Canada.  It features bouncy music, captions and humorous persistence.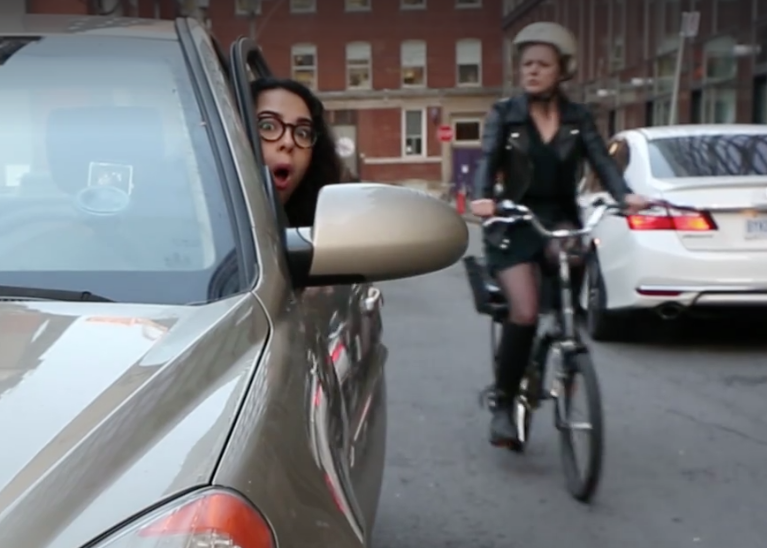 The article includes a still screen shot -- <<< here at right -- taken from the viral Outside Online video but marked with a red arrow to emphasize the initial far hand grab for the car door latch, the signature move of the Dutch Reach anti dooring method.
The Huff-Post video is found at the bottom of the post - & on a FaceBook page posted by HPC.
by LifeAspire Staff 3/9/2017
Note: Multiple media sites carry the Outside Online video, whole, edited & captioned in other languages!
Outside's video appears and still circulates now on mainstream & off-stream websites, blogs, FaceBook pages, via Twitter posts, and other social media worldwide.  
Among the most popular early sites to host it in its entirety or use clips -- and most were possibly first alerted to the Dutch Reach by the OO video's buzz -- include 99%invisible, CleanTechnica, Upworthy, & Treehugger.  Mainstream outlets include BBC World Service & PRI's The World, the Telegraph UK, & Weiner Zeitung, Austria.
Click > for Foreign Language Videos
UK, AU, India etc.: VIDEOS & ANIMATIONS for LEFT=SIDE-OF-ROAD NATIONS
The One Thing We Can ALL To Do Save Cyclists' Lives - LBC UK, 2017
LBC UK: Leading Britain's Conversation
The One Thing We Can ALL To Do Save Cyclists' Lives
13 January 2017 - Talk radio website video
Unrepentant dooring expert British Transport Secretary Chris Grayling stars here as poster child for the Dutch Reach.  
Jazzy video lesson with stills, beating music and captions concludes with Grayling's Go Pro cameo.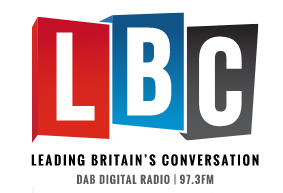 Mamamia, AU - FOR LEFT SIDE OF ROAD DRIVING WOMEN
MAMAMIA: What Women Are Talking About
Mamamia.com.au  > Real Life > Lifestyle
Joanna Robin -  Jan 17,  2017
 A Dutch driving trick that's saving cyclists.
DUTCH REACH VIDEO - FOR LEFT SIDE OF ROAD DRIVING WOMEN - AU
MAMAMIA: What Women Are Talking About
Mamamia.com.au  > Real Life > Lifestyle
Joanna Robin -  Jan 17,  2017
 A Dutch driving trick that's saving cyclists.
AUSTRALIA: RAVC ROAD SAFETY ANIMATIONS: CAR DOORING of BICYCLES & MOTORCYCLES
AUSTRALIAN VIDEO:  CAR DOORING (BICYCLES)
AUSTRALIA - EXECUTIVE STYLE = Online
by Michael O'Reilly, Executive Style, Jan 20 2017
DYI YOU-TUBE DUTCH REACH VIDEOS
NEVER Open Your Car Door On A Cyclist Again - Dutch Reach Method