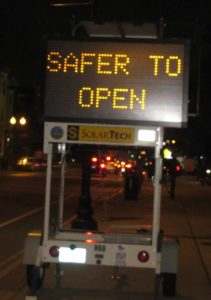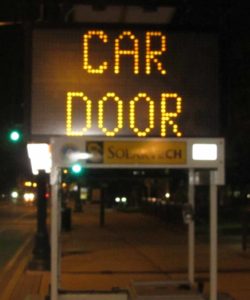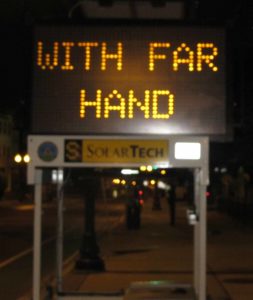 Mobile Electronic Signs
Digital programmable traffic signs get driver attention!
Typical formats are for two to three lines of up to 8 characters each, presented in one to three frame sequences, of several seconds per frame.
Try making up some of your own.
If your local police or traffic department puts up a Dutch Reach or any other anti-dooring message on their electronic sign displays, please take pictures, post them on your Facebook or website, and please send DutchReach.org copies and links!
Here are some 'haiku' ideas to get you started —
SAFER TO OPEN / CAR DOOR / WITH FAR HAND
DUTCH REACH  /  TWIST  LOOK  /  TO OPEN DOOR
DOORING KILLS/ OPEN CAR DOOR/ WITH FAR HAND
REACH ACROSS/ TWIST LOOK / OPEN W CARE
2 EXIT YOUR CAR/ SAFELY – USE/ DUTCH REACH
FLUNG CAR DOOR/ CAN KILL BIKER/ GO DUTCH REACH
REACH SWIVEL / LOOK OPEN
OPEN CAR DOOR/ WITH CARE
CAR DOORS/ OPEN WITH CARE
DO DUTCH REACH/ TO LOOK OUT/ FOR BIKES
DO DUTCH REACH/ SAFELY OPEN/ CAR DOOR
USE FAR HAND/ 2 OPEN/ CAR DOOR
DUTCH REACH/ TURN TO SEE/ BIKE COMING
v.5, 11/6/16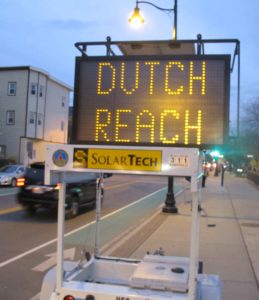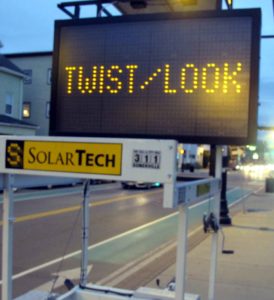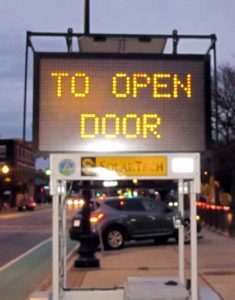 HOW IT HAPPENED
Note:  The above electronic sign launched the 'Dutch Reach'!*
Electronic messages displayed above were posted by the City of Somerville, MA's Police Department in early September 2016, just eleven weeks after the dooring death of Amanda in neighboring Cambridge which triggered the Dutch Reach Project.  The Project had circulated a list of suggested 'haiku' similar to those above, and Somerville's Deputy Chief of Police and staff devised the version displayed.
Stuck in traffic, a Boston Globe reporter saw the sign, discovered the 'Dutch Reach' effort behind it, and wrote the very first news story about the Dutch Reach campaign. It appeared September 8th 2016 in the Boston Globe Online where it trended among the top stories that day.
A writer for Outside Online Magazine based in Santa Fe read the Globe story online, and pitched it to his editors.  Of its own initiative, unbeknownst to the Project, Outside Online editors and videographers of an afternoon produced Outside's "The Dutch Reach - Safe For Work" video (9/19/16).  Their video went viral, garnering over one million views in one month!  Days later, WGBH & PRI/BBC World Service The World produced a radio interview and distributed it across North America, linking  to the video in its online/archived edition.
The Dutch Reach method is now spreading world wide.
* Electronic message at left was posted at the same location two months later. Drivers by then might have heard of the 'Dutch Reach' or, made curious, find it on the web.