INSTRUCTIONAL FLIER: "TEACH THE REACH'
Created by Beth Israel Deaconess Medical Center's Communications Office in conjunction with its Healthy Work/Healthy Home program and the Longwood Area* Cyclists, and using inset of instructions & line-drawing provided by the Dutch Reach Project, this is a collaborative work.  
As such, it is here for further use and adaptation in the service of dooring prevention.  Should your group wish to add your own text, logo or contact information, please feel free to do so - though keeping the BIDMC logo would not only be respectful but also lend medical authority to your campaign.  Or perhaps you could collaborate with a hospital in your city or town and include their logo in return for printing or costs!  Just get the word out!
FLIER FOR MEDICAL AREAS
Dutch Reach anti-dooring flier for medical area staff & employees - both to Teach the Reach and encourage its inclusion in injury prevention safety programs for medical institutions & patients.  Download this flier down below~!
CYCLISTS!!   EVER DOORED?   FEAR IT?
TEACH THE DUTCH REACH
Tell everyone!  It's a much safer habit!
>>  Reach across w Far hand, Swivel, Look at mirror,
Out & back, Open slowly. Exit facing traffic. <<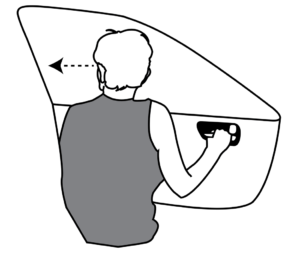 Dutch kids learn it from parents & in school.  It's taught in drivers' ed, & required to pass their driving test. It's been Dutch commonsense for 50 years.  Time we thought so too!  -- Tie a ribbon on latch & practice!
YOU CAN HELP!  Get your Medical Area institutions' fleets, transportation management & all employees to use & promote this RoSPA-approved* best practice.  Vendor delivery contracts could require training for safer bike/ped road sharing.  Add parking lot & garage signage, waiting room posters & flat screen messaging to teach the Reach!  Carry the Reach into your own community: to retrain public employees, citizens & businesses.  Add it to public school curricula from grade school up into driver ed.
For videos, graphics, info to advance this grassroots campaign go to: www.dutchreach.org   #dutchreach or email: dutchreachorg@gmail.com
*Royal Society for the Prevention of Accidents, UK

2017 Mass. Driver's Manual, Chapter 4: Rules of the Road, p. 109: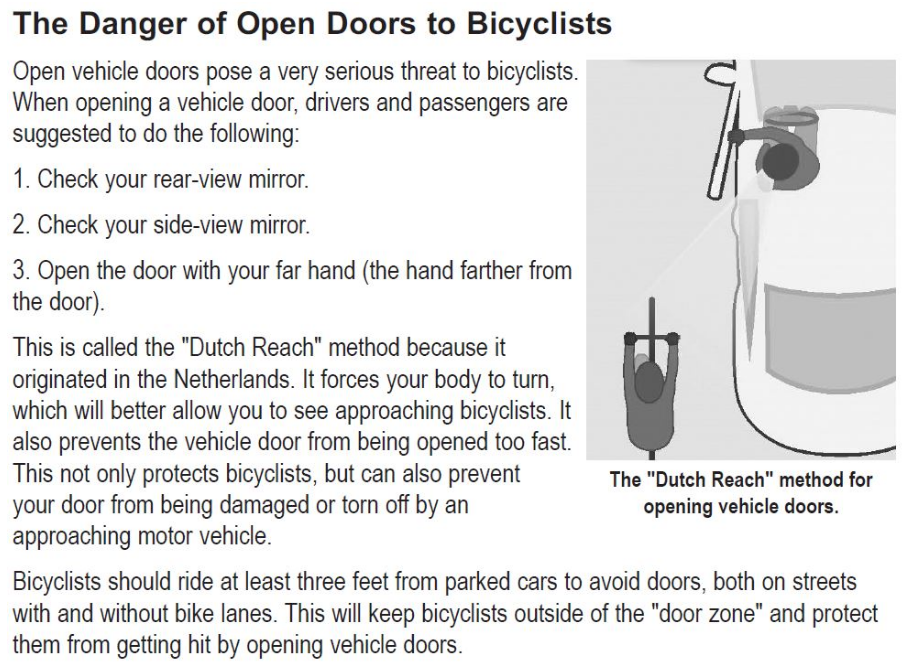 Flier featuring Massachusetts' 2017 Dutch Reach Advisory