FLIER FOR MEDICAL AREAS
Dutch Reach anti-dooring flier for medical area staff & employees - both to Teach the Reach and encourage its inclusion in injury prevention safety programs for medical institutions & patients.  Download this flier down below~!
CYCLISTS!!   EVER DOORED?   FEAR IT?
TEACH THE DUTCH REACH
Tell everyone!  It's a much safer habit!
>>  Reach across w Far hand, Swivel, Look at mirror,
Out & back, Open slowly. Exit facing traffic. <<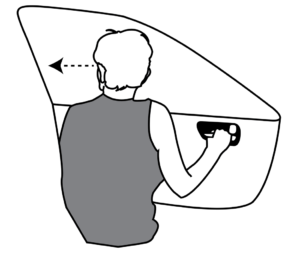 Dutch kids learn it from parents & in school.  It's taught in drivers' ed, & required to pass their driving test. It's been Dutch commonsense for 50 years.  Time we thought so too!  -- Tie a ribbon on latch & practice!
YOU CAN HELP!  Get your Medical Area institutions' fleets, transportation management & all employees to use & promote this RoSPA-approved* best practice.  Vendor delivery contracts could require training for safer bike/ped road sharing.  Add parking lot & garage signage, waiting room posters & flat screen messaging to teach the Reach!  Carry the Reach into your own community: to retrain public employees, citizens & businesses.  Add it to public school curricula from grade school up into driver ed.
For videos, graphics, info to advance this grassroots campaign go to: www.dutchreach.org   #dutchreach or email: dutchreachorg@gmail.com
*Royal Society for the Prevention of Accidents, UK