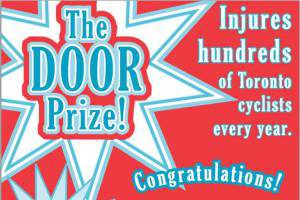 TORONTO, CANADA: 2005 to PRESENT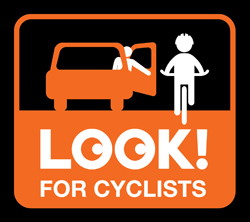 NEW YORK CITY, NEW YORK, USA -- 2012
NEW YORK CITY 
LOOK Safety Campaign
http://www.nyc.gov/html/dot/html/pedestrians/look.shtml
For more, on NYC DOT's Anti-Dooring efforts, see:  
Not so un-sanitized nor groovy, is NYC DOT's previous anti-dooring PSA --  NYC DOT LOOK
These videos ran in rotation on Taxi TV in NYC.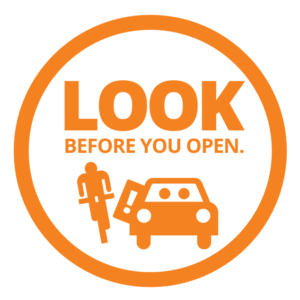 PORTLAND, OREGON, USA: 2015 - Present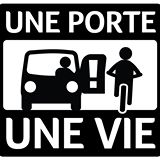 UNE PORTE UNE VIE - MONTREAL, CANADA, 2014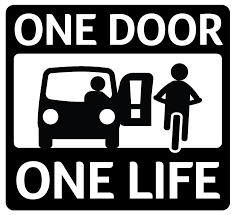 VICTORIA, AUSTRALIA -- pre- 2012 & ONGOING
9 August 2012: 
VicRoads inserted advertisements in newspapers to warn drivers and passengers of the doubling of fines for dooring offences.
The warning ad may be downloaded here.
The Bicycle Network website maintains coverage of the dooring issue, viz:
Bicycle Network - Melbourne, Victoria, & NSW:  Anti-Dooring Posts , News, Initiatives
Dooring
Doorings of riders is of serious concern as new riders flock to the streets and driver distraction worsens. Many serious injuries, and death, have resulted. 
* Note:  "VicRoads or the Roads Corporation of Victoria is a statutory corporation which is the road and traffic authority in the state of Victoria, Australia." -  Melbourne is the capital and most populous  city of Victoria. -- Wikipedia.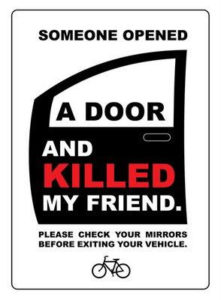 CHICAGO, ILLINOIS, USA - 2008, 2013 --
February, 2013:
June, 2008:
SEATTLE, WASHINGTON, USA -
Section 11.58.050 OPENING AND CLOSING VEHICLE DOORS. No person shall enter, leave, or open the door of a motor vehicle on the side adjacent to moving traffic unless and until it is reasonably safe to do so, and can be done without interfering with the movement of other traffic, nor shall any person leave a door open on the side of a vehicle adjacent to moving traffic for a period of time longer than necessary to load or unload passengers.
http://www.seattle.gov/transportation/bikecode.htm
NEW HAVEN, CONNECTICUT, USA - 2013: "DOORS HURT"
New Haven campaign to re-train drivers taught "The Amsterdam method"!
In 2013, the New Haven's Transportation, Traffic & Parking Dept. promoted "the new Amsterdam technique" ie. 'reach across' --  and other advice to reduce cyclist doorings. "Doors Hurt" flyers were placed on parked car windshields in a downtown business district.    The flyers were the centerpiece of the driver reeducation campaign.  The T T & P Dept. picked up on the idea after Devil's Gear Bike Shop & Elm City Cycling called for anti-dooring infrastructure improvements and posted cyclist suggestions which included the 'reach' on its website.  But New Haven's campaign did not use a unique name to describe it. However a news story in the New Haven Independent refers to the maneuver as the Amsterdam or European method.
FORT COLLINS, COLORADO, USA -
The City of Fort Collins, Colorado's FC Bikes in coordination with the local cycling non-profit Fort Collins Bikes developed and began promoting the "Opposite Hand Trick" aka far hand reach method in the mid 2010's.  
It is part of  FC Bikes/Bike Fort Collns' Bicycle Friendly Driver Program.  The BFDP is now being adopted in scores of towns and cities around the the country.
BOSTON/CAMBRIDGE/SOMERVILLE, MASSACHUSETTS, USA -
Greater Boston, Massachusetts