Ghost Bike Vigil for Amanda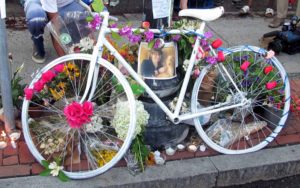 Why...
The 'Dutch Reach' anti-dooring project began in tragedy, anger, fear, and sorrow.  A vibrant and loved young woman was killed blocks away in perhaps the commonest of in-city bike/car crashes.
Doorings, being doored, or 'near-door experiences' are dreaded daily by urban cyclists: A car, parked or just stopped in traffic.  From left or right a door flung open just in front of you.  Shout!!  Brake if you can, swerve as you must.  Pray as you crash - into, over, under, strewn into on-coming traffic.  Or not.  Curse, bike on.  Shaken.  What if...
A day after Amanda's death I got a disturbingly obvious 'what if' revelation from another shook cyclist:
Ask the question, "Which hand do you use to open your car door?" Puzzlement.  "Why, this one, my left…of course."  "But the Dutch do it differently."  "Oh???"  "They use their right, their far hand.  It's much safer." "What?! …Ooohh!  I get it! It makes you turn, it's easier to look!  So simple! It's obvious!  I just never thought about it!"
Far smarter than handing out doored-prizes.
Cyclists, drivers, passengers, we need each other to make our daily travel safer and less hassled.  And at one time or another we ARE each other.
So let's tell everyone the Dutch secret.  It's commonsense.
-- Michael Charney, Cambridge, MA, USA
.
Seven months on, now it is 'My Lord Dutch Reach'
On 1, February 2017 the UK's Royal Society for the Prevention of Accidents has elevated the humble expatriate 'Dutch Reach' anti-dooring method for inclusion on its esteemed roster of recommended traffic safety practices, posting this on its
Road Safety website
.
For 50 years a nameless commonplace habit in the Netherlands, largely unknown and ignored beyond its physical and linguistic borders, the Dutch Reach has now achieved authoritative standing in the judgement of one of the most preeminent safety and accident prevention bodies in the world.
So please share widely, and perhaps even rejoice!
Many livesand limbs will be spared when RoSPA's recommendation to prevent doorings becomes known, officially adopted, taught and practiced in the UK and beyond.
So thank you RoSPA-- and thanks to all who read this and have contributed in large or small ways to this progress.  And congratulations.  The far hand reach is now percolating across the globe and in the awareness of at least several million people worldwide who had never heard of this method before.  Even with -- or perhaps because of its curious name it now travels much more easily past customs control!
Much of the heavy lifting was accomplished no doubt by Outside Online's The Dutch Reach - Safe For Work video.  Outside's staff produced and published it on a dime, a mere eleven days after the term Dutch Reach first appeared in print.  Views on  OO's in-house and You Tube portals alone top 1.3 M views to date.  [Update: Now over 2 million views on OO's in-house & OO's YouTube portals combined; myriad other sites world-wide carry it too. - 4/25/17.]
In the five months since the original Boston Globe report, Outside's video and PRI BBC World Service's radio account forced the creation of this website, scores and scores, perhaps hundreds of online news services, blogs, tweets, FaceBook posts etc. have amplified and developed the teaching.  And a few legislators, one head of state (Canada) and numbeless bicycle, pedestrian and safe roads organizations have picked up the beat.  
Additional videos, Dutch Reach graphics and animations, TV accounts, talk radio, print and podcast journalism can now be found, from North America to Eastern and Western Europe, Asia, Africa, Australia and New Zealand! It has roused advocates' support in many cities around the globe where dooring is a scourge.  And it currently figures in the controversy over British Transport Secretary Chris Graylings dooring of a cyclist by NOT using the Dutch Reach!
With this website now decently built out, it offers open source one-stop shopping for activism to promote its teaching, adopted by traffic and parking, transportation and public heath officials, corporate and public fleet divisions, ride share drivers and their passengers, etc. and ultimately make it part of every state's Drivers Manual, written examinations and road tests. Hopefully the Dutch Reach with our help can keep up the pace already set, or even raise it up a gear.
- mc, 2/3/17
State of this Project & Website
Dear Reader,
Please note that this project only started 6/24/08, now three months ago.  I purchased the domain 5 days ago at this writing (9/27) and immediately began construction in response to rapid media attention -- the 9/8/16 Boston Globe article "To avoid dooring, this cyclist...", and fast on, the 9/19/16 Outside Magazine Online article & video "How the Dutch Reach Could Save Lives" featured on the Home page.
Plain to see, my site savvy, design and editing skills are weak, and anyone with interest and WordPress mojo please your mentoring would be most welcome!  
Hopefully it - this site - will get better! (The Comment section and Contact page are likely to be sub-par if not non-functional for a while.  So rather than spend too talking to ourselves -- please help spread the word with links, Likes, tweaks, whatever.  For starters there's Outside Oneline's video, Steve Annear's Boston Globe's story, and www.DutchReach.org itself to share.  This is a small 'ask' which is unusually well received.  Yet it can go a long way to increase vigilance and respect for cyclists while automatically making car exit safer for everyone.
You can find links to share at Media Coverage above.
-- MC
Credits & Acknowledgments, Witting & Unwitting*
Anonymous 'shook cyclist';  Nudge Blog; Prof. Ruth Oldenziel, Eindhoven University, NL; Russell Shorto, The New York Times; Deputy Police Chief Stephen Carrabino, City of Somerville Police Dept.; The Boston Globe & staff reporters Steve Annear & Martine Powers;  Amy Saltzman, Editor, Cambridge Chronicle/Wicked Local; Massachusetts Bicycle Coalition, Richard Fries, Exec. Dir.; Jon Ramos, Boston Bike Party; Lissy Herman - 'Dutch Reach' illustration & line drawing;  Montreal Bicycle Coalition; Dr. Anne Lusk, Harvard School of Public Health;  City of San Francisco's SFMTA & SFGOVTV with Vision Zero - SF, SF Bicycle Coalition & Walk SF; Hans Voerknecht, CROW.NL; Simon Rios, WBUR; Jennifer Molina, City of Somerville; Ken Carlson, & Somerville Bicycle Committee;  Reporter Ben Fox, videographer Marie Sullivan, Fitness Editor Wes Judd & all members of Outside's Editors' Video Team, Outside Magazine Online;  Cambridge Bicycle Safety; Marco Werman & Bradley Campbell of WGBH, PRI/BBC World Service 'The World'; Diane Jenks, The Outspoken Cyclist;  Dennis _, Ronkonkoma, Inc.;  Dan Strollo, In Control Safety; John Paul, NE AAA; Jeffrey Larason; [City of ~] Cambridge Community Development & Marie Macchiarolo: Cambridge Street Code; Pat Bibbins & Emily O'Brien, Medford Bicycle Advisory Commission; UK Royal Society for the Prevention of Accidents - Road Safety; Canadian Member of Parliament Joël Lightbound & staff; City Council of Winnipeg Manitoba & Councilman Matt Allard; Washington Area Bicycle Association; British Transport Secretary Chris Grayling (unintentional assist); LBC UK; CB TV - Manitoba; Dutch Cycling Embassy; Michael O'Reilly, Exective Style; Bike Saves PH; Femke Zeilstra, translator; Rahel Wachs, illustrator of child using far hand reach; Alex Bowden, road.cc; Sam Jones, CyclingUK; Doug Smith & Washington Area Bicycle Assn; John S. Allen; David C. Read, Longwood Area Cyclists & Dana-Farber Cancer Institute; Healthy Homes/ Healthy Work program of Beth Israel Deaconess Medical Center, Boston; graphic designer Patrick Bibbins for new Dutch Reach icon & logo; & many more to come.
Also: Credit is due to all who have picked up, shared and elaborated on the Dutch Reach method on the web:  99percentinvisible.org, Upworthy.com, Lloyd Alter, TreeHugger.com, BikeAccidentLawyersBlog.com, Cleantechnica.com, The Guardian - UK, The Telegraph - UK, mumset, ycombinator, and myriad bloggers, reddit members, diverse bike groups, auto dealers, radio stations, etc. etc. who are getting out the word.
Note:  More to come; surnames shall only be added if consent received.
Listing of names does not imply endorsement or participation.