NOTE:  Teaching handouts are now available for download for either Right or Left road driving countries with appropriate text and drawings.  If you find L/R errors, omissions or oversights elsewhere on the site please let me know.  Thanks!~mc.   
Download teaching handout for your country's appropriate L/R version by clicking on the small Word icon [W] beneath each respective document window.
See: Complete list & map of left- & right-driving countries.
CAMBRIDGE 'STREET CODE' - TEACHES DUTCH REACH
"Street Code - Rules and Etiquette for Getting There Together" (2016) by the City of Cambridge provides instructional text and diagrams to teach the Dutch Reach method.  See Street Code, pages 8 & 9.  Or go here.
GENERIC DUTCH REACH DRIVER'S ED, HANDOUT: FAR HAND [All drivers & passengers.]
The 'Dutch Reach' is the safer way to exit your car to avoid stepping into traffic or 'dooring' a cyclist.
   >   Reach across, Swivel, Look out & back, then Open slowly ...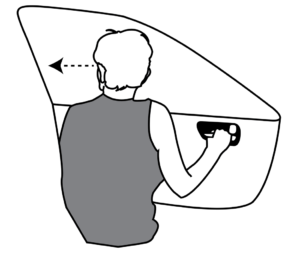 T 
Exit when safe, Still looking back.  <
Drivers & passengers use far hand to open car door.  
Reach across for door handle.  Forced to Swivel, you naturally Look out, at mirror & easily back for bikes & traffic.  Then Open slowly, now looking back through opening. Step out, still watching for on-coming traffic.
With conscious practice, or learned as a child, the far-hand Dutch Reach becomes an automatic safe habit.  It replaces one thoughtless habit with another, but this one is far safer!
It is also safer because:
You are less able or likely to fling open the door and cause a crash.
Side-mirror view is limited by blind spots and is lost once you move, open & exit.
It allows continuous direct view of on-coming traffic as you open and exit.
It works for drivers, and passengers exiting front or back, left or right.
Note: Drivers can be held criminally and civilly liable for door obstruction of traffic.  Dooring can be fatal due to collision or forcing a cyclist to swerve into traffic or other obstacle. Drivers are also responsible for unsafe discharge of passengers.
- www.dutchreach.org    Tip: Tie ribbon on latch as reminder... & practice! 
DRIVER EDUCATION HANDOUTS - Left & Right Driver Versions Below....
Download a version of the above guide as MS Word document suitable for printing as is or revise as needed.   Below each imaged, scroll-able handout you will find its link for download.
Choose download version appropriate for your country's road rule: right- or left-side driving.
This one page handout can teach the Dutch Reach to students in drivers education programs, to instruct adults to replace the near-hand push; for taxi, livery,  Uber/Lyft/ride-share and fleet drivers, and all passengers.
Feel free to reproduce, adapt, revise, post & distribute to state and local driver education programs, road safety organizations, transportation safety officials etc..
Use it to inform and persuade officials at your state's RMV/DMV licensing division to introduce the Dutch Reach into the state drivers' manual, driver education programs road test and licensing examinations.
Feedback, graphics and suggestions for improvement are welcome.
DUTCH REACH DRIVER ED. HANDOUT: : Driver's RIGHT Hand [USA, CA, CN, BR, EG, FR, GE, IRN, IT, TR, RU...]
Download as MS Word file using link immediately below document at its lower left.
Download to print or adapt.
DUTCH REACH DRIVER ED. HANDOUT: Driver's LEFT Hand [AU, UK, ID, IE, IN, JP, MY, NZ, TH, ZA....]
Download as MS Word file using link immediately below document at its lower left.
Download to print or adapt.